I cannot believe I have finished my first year of college at the University of Denver (DU). It is CRAZY!
Spring Conference
The main event in Spring Quarter was flying out to Los Angeles to attend a conference at the University of Southern California. I founded a chapter of the Roosevelt Institute at DU. Roosevelt is a non-partisan, non-profit, undergraduate think tank (how's that for a mouthful) that seeks to empower young people in political change ranging from K-12 reform to international development, economic justice to public health issues (like food allergies!). The Western Region held an annual conference at USC that I was invited to since I had recently started up the chapter at DU. They were very understanding of my food allergies and expressed an interest in accommodating them.
Everything didn't work out how I had planned. I had initially understood sandwiches were going to served for the mid-conference lunch but that was soon changed to Indian food. Needless to say, I was at a loss as to how to work around Indian food. I decided to bring my own bagels and snacks in my suitcase for a safe alternative for food. Thankfully, the breakfast they provided was safe. I knew I had to work around it since it was a last minute change, and I didn't throw up a fuss. Since I could bring my own food (or heck, even order Jimmy John's to deliver once I was there), it was not a problem.
For dinner, I ate at In-n-Out Burger. I've had In-N-Out before on a trip my senior year and I knew it was safe. I double checked once I was there and they assured me nothing contained sesame. It was absolutely delicious!
Just to reinforce something, this was the first time I had flown alone – no friends, no family, nobody with me besides, well, me! It was a big leap forward. However, I flew Southwest Airlines so I knew no problems would arise. You can indicate (like I did) a "peanut dust allergy" when ordering tickets and get two things: a preboard slip and a PDA slip. Preboarding allowed me to enter first and clean off my seat from any previous flight to prevent contact with allergens. The PDA slip I gave to the flight attendant and because of it, they do not serve peanuts on the flight. Overall, the conference was a safe and successful trip!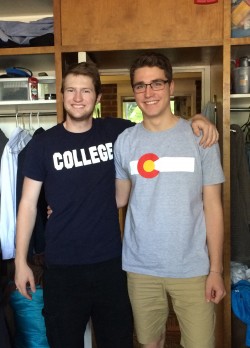 My Roommate
I have to say: the reason my first year at college was successful was because of my roommate, Thomas.
Thomas comes from the humble little town of Buena Vista, CO and he is one of the best people I know. He wouldn't eat my allergens in the dorm room, he'd wash his hands if necessary, be considerate of the restaurants we're eating at, watch out for my health, and simply would be a good guy. Thomas was truly an amazing roommate. We were randomly assigned through the housing system and I have to say I was very fortunate to be assigned to room with him. I can't offer enough praise for having such an awesome guy.
I trained Thomas about allergic reactions and what symptoms to look for, and how to administer my EpiPen. He'd even read labels on things! I hope every food allergic child has such an awesome experience.
Certainly, Thomas was aware of my food allergies because I told him – an essential step. When your food allergic child(ren) go to college, tell them this: do not keep them hidden from the person/people you're living with! I set out the standards of asking him not to eat things I was allergic to in the room and everything worked out amazingly.
Wicked
To celebrate the end of the quarter, I went and saw Wicked, the famous Broadway musical. I have seen it before and I absolutely love the play. Very catchy show tunes – they're still stuck in my head almost a week later!
The program at DU that helped sponsor this also paid for a pre-show dinner at a local French restaurant called Bistro Vendome. They offered a choice of two appetizers, four entree dishes, and two desserts since we had such a big group (over 30 people!). I told the waitress about my food allergies when I ordered the dishes I wanted and told her also about cross contact issues. She was very nice and helpful and triple checked all the dishes with the chef to make sure they were safe! It was a wonderful and delicious (and free!) dinner.
On Campus Food
The last quick note I'd like to make is that I still had no issue with the food on campus. The local dining hall actually had a change in staff so there was a new head chef! I made sure to introduce myself but since all the food has ingredients clearly labeled on television screens, I knew there wouldn't be an issue.
Have a wonderful summer!