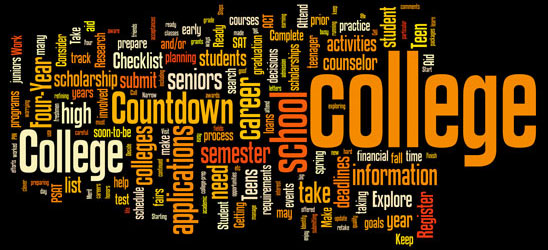 I've been asked recently to provide a checklist for preparing for college when you're managing food allergies. We've had a lot of experience over the last 5 years preparing and getting both of our children (with different food issues) into college.
Our daughter, Michaela, has celiac disease (diagnosed in high school) and a mast cell disorder, which wasn't diagnosed until college. She has a very limited diet with many intolerances and a wheat allergy too! Our son, Morgan, has life threatening food allergies to peanuts, tree nuts, sesame, fish and shellfish along with eczema, environmental allergies (pets and pollen) and mild asthma.
We've visited almost every college in Colorado, and a few outside of Colorado too. With all that experience, here's a college checklist to assist your child with food allergies get prepared for college:
Take an accurate self-survey to determine how responsible you are with your food allergies and/or asthma:
Be honest – do you ALWAYS remember to carry your EpiPen/Auvi-Q?
Can you train someone on the administration of your epinephrine autoinjector?
Do you remember to take your other medications (antihistamine, inhaler, etc.) without your parent(s) reminding you?
Are you willing to talk with a cafeteria worker about the seriousness of your food allergies?
Do you feel comfortable talking with a dorm roommate about your need for a safe living space?
Can you cook for yourself and shop for groceries if you're going to live in an apartment?
If you can answer in the affirmative, you're probably responsible enough to go away to college and appropriately manage your food allergies. If there's still a few questions you're concerned about, I'd suggest working toward that level of responsibility to ensure that your freshman year in college isn't fraught with a trip (or two or three) to the ER.
In addition to my own children, I've communicated with dozens of young adults who are in college managing food allergies. Each of them finds a way to manage their own unique living situation along with their food allergies, yet several of them have experienced anaphylaxis while away at college. Having an EpiPen or Auvi-Q within reach is vital. Accidents do happen, so be prepared!
Get an idea of what you want to pursue academically
Food allergies aren't the only thing you'll be managing in college! Having an idea of what you want to major in will narrow down some of your choices for schools. We've learned that it's expensive to pay application fees to multiple colleges, so it's best to delve into the college website to see what degrees they offer.
If you have no idea what you want to major in, check out a local community college. Our daughter, Michaela, went to Pikes Peak Community College for two years and loved it. It allowed her to decide what she wanted to major in, and then she transferred to a 4-year university after completing her Associates Degree.
Are you ready to leave the safety of home?
How do you feel about going FAR away from home? Will you need to get an allergist nearby to help manage your allergies and/or asthma? Or would you rather your college be closer to home yet enable you to live on campus? Or do you prefer to live at home?
There are a lot of kids without food allergies that don't do well thousands of miles from home. Others seek that special Ivy League degree, and are more than ready to be a far distance from home. If you have asthma, you might need to live in a dorm with air conditioning, or filtered air.  Not all college dorms have air conditioning; therefore this issue may require discussions with the Disability Services Office (DSO) of the college and a letter from your allergist to get what you need from the Housing Office.
The 504 Plan from K-12 schools doesn't follow you to college. Every college we've visited has stated that accommodations are available in college, however there is a whole new set of paperwork to complete, and documentation of the medical condition will be necessary for the DSO to authorize the accommodation. Many DSO's aren't yet up to date with their paperwork for food allergy accommodations. They generally deal with learning accommodations, so some patience and education may be necessary on your part.
At the age of 18, students are considered legal adults. Therefore, Mom & Dad won't be negotiating accommodations – you will be! Know what you need to stay safe and healthy.
Visit the colleges/universities that interest you academically
These visits are vital we've found. Schools can look great or horrible if you only look at their website. Visiting in person gives you a whole different feel for the school. A visit also allows you to check out the dorm rooms and the cafeteria meal plans, meet the students and the professors, take a tour of the campus, check out the emergency procedures and ask LOTS of questions!
What is your ideal living situation in college? What is your ideal college academically? Can these two scenarios be found in one college?
We've found that it never hurts to ask for exactly what is wanted. If you want a chef to specially prepare your meals, ask if that can be done. Do you want to live in an apartment? Ask for that. First, you need to know what you're comfortable with:
When visiting a college, here's what we look for in relation to food allergies/asthma:
Are ingredients listed on all foods in the cafeteria?
Is there a chef on site to take special orders?
How many of your allergens are regularly served?
Can you speak with a Dining Manager about your needs during your visit?
How old are the dorms?
Has there been any water damage?
Are the dorms Air Conditioned?
If not, what documentation will be necessary to submit for a medical necessity to live in Air Conditioning?
Can the Resident Advisor be trained on the administration of an EpiPen/Auvi-Q?
Can roommates be selected to ensure no food allergens are in the dorm room?
Where is the nearest Emergency Room?
How is 911 handled on campus?
Is food allowed in the classrooms?
Is smoking allowed on campus?
What paperwork is necessary to complete for the Disability Services Office?
Can you obtain that package of paperwork?
There are probably a dozen more questions to ask, but you get the idea that we are VERY thorough. We've found that talking directly to the person in charge while visiting the campus is vital. Take the time to set up personal meetings with everyone when you visit and pick up business cards to be able to follow up later. We've found that coming to campus with a list of questions generated from Mom/Dad and from the potential student is helpful.
Make a decision!
The best thing to know is that just because you've made a decision to attend a specific school, this is rarely set in stone. If things don't go as planned, you can chalk it up to a learning experience and move on from there.
Our daughter, Michaela, lived at home for the first year and a half while attending the local community college. She wasn't ready to live in an apartment, shop and cook for herself while trying to adjust to college academics. After 18 months, she was ready to move in to a room in a house she shared with a housemate. She transferred to the local University of Colorado at Colorado Springs, and graduated from there in May 2013. She has her own cooking utensils, cutting board, silverware and dishes. It has worked fairly well, although she has had to do a large amount of education and then remind her housemate when things are accidentally shared.
Our son, Morgan, has decided to attend the University of Denver (DU), where he is hoping to be able to get approval for a room air conditioning unit in his dorm room. The Disability Services Office will be reviewing his paperwork soon. He will eat in the cafeteria where the head dining manager has extensive experience preparing safe meals for students with food allergies. The students get assigned to one chef whom they can text message prior to each meal. Their meal is then prepared separate from everyone else's. It's a wonderful system that has worked well for other students managing food allergies! Should the air conditioned room not come through, Morgan will live in a dorm with A/C that also comes with a kitchen, which will be a nice backup. We feel very blessed that DU became a possibility for Morgan when he received a Boettcher Scholarship. It is a dream come true!
We hope that your dreams come true with the college of your choice that can keep you safe and healthy while enjoying a full college experience!